FCK – Frédérick Gautier sera présent à l'Atelier Jespers (Bruxelles) du 7 au 11 mars 2018 dans le cadre de l'événement Collectible / #itinerance03
Proud to announce #Itinerance03 during the Brussels Collectible fair, presenting selected works by Francesco Bolzano, Sophie Dries, Frederick Gautier, JF Jaussaud,  KRJST Studio & Frédéric Pellenq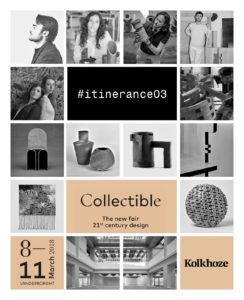 Built by Victor Bourgeois for his sculptor friend Oscar Jespers in 1928, the workshop was used by Jespers until his death in 1970. The 400m² space was a popular meeting place for the European artistic avant-garde at the end of the 1920s. In September 2015, Jean-François Declercq decided to turn it into an art centre, a space dedicated to encounters and exhibitions. Under the name Atelier Jespers, the house has returned to its initial mission: presenting. In a modernist setting, the house now hosts all kinds of artistic projects, including design, mixed media and sound, with the humble ambition of creating a dialogue between the intention of Victor Bourgeois and contemporary artworks.
In 2017, Atelier Jespers started organizing its '#Itinérance' series, external projects bringing art to the public in Belgium and abroad. For its third edition, #Itinérance3 presents 6 designers at Collectible: Frédéric Pellenq (F), FCK-Frédérick Gautier (F), Maarten Stuer (B), Studio KRJST (B), Sophie Dries (F), JF Jaussaud (F) & Francesco Bolzano (F)
#Itinerance03, in partnership with online platform Kolkhoze & Aurélien Gendras, showcases a coherent ensemble combining harmony and innovation.